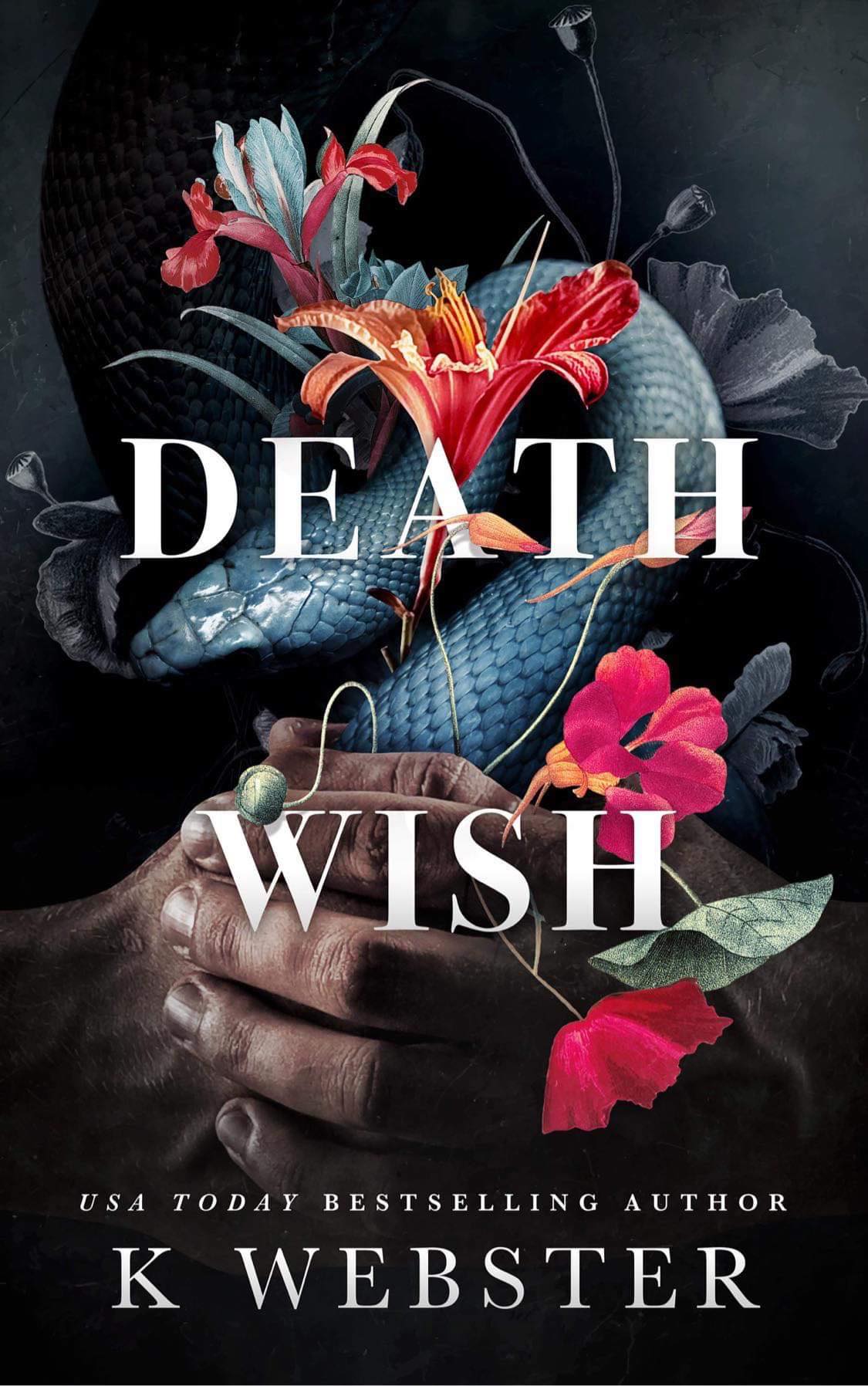 My Review:
Death Wish picks up where Triple Threat Left off and cannot be read as a standalone.
Landry is still trapped, but this time by the Mannford Triplets.  But is she really trapped or exactly where she wants to be?  However, her father will not allow her or Della to walk away, and things are about to get even uglier and messier than they were before.  It will be up to the Terror Triplets to keep her and Della safe from the true monster in this scenario.
I really do have a love / hate relationship with the triplets and how they manipulate, even if, in this case, it is somewhat with good intentions?  This book has some very dark themes and some very blurry lines when it comes to morals, but it was fascinating.  I loved watching Landry feel secure enough to start taking back her life and fighting for what she wanted.  I absolutely adored Della and her relationship with each triplet.  Ty Constantine is definitely the unsung hero in this book and needs his own story.  And, I will admit to falling for the triplets more and more with each page . . . even Scout and his psycho ways!
Death Wish is one heck of a ride and unexpected to the last page.  4 stars!
DEATH WISH (Deception Duet #2) by K. Webster
Release Date: March 29th
Genre/Tropes: Reverse Harem /Cinderella Story
AVAILABLE NOW!!!
Amazon: https://amzn.to/3Jrv32y
Amazon INTL: https://getbook.at/9g5OLb
Apple Books: https://apple.co/3MihKCZ
Kobo: https://bit.ly/3HiCwza
Google Play: https://bit.ly/3AFoXI8
Start the duet with TRIPLE THREAT, book 1!!!
dangerouspress.com/books/triple-threat
Add to Goodreads:
https://www.goodreads.com/book/show/59971245-death-wish
Blurb:
All I wanted is for my little sister Della to be safe and happy. And maybe, in brief stolen moments, I dreamed of a happy ending for myself with a brown-eyed man. That hope has turned into sharp, bright fear. There's only survival now.
I'm the daughter of a controlling and cruel billionaire, so I understand about power. But I find myself fighting anyway. I find myself testing them.
I have claws and I bite. I'm not going down without a fight.
It's like I have a death wish.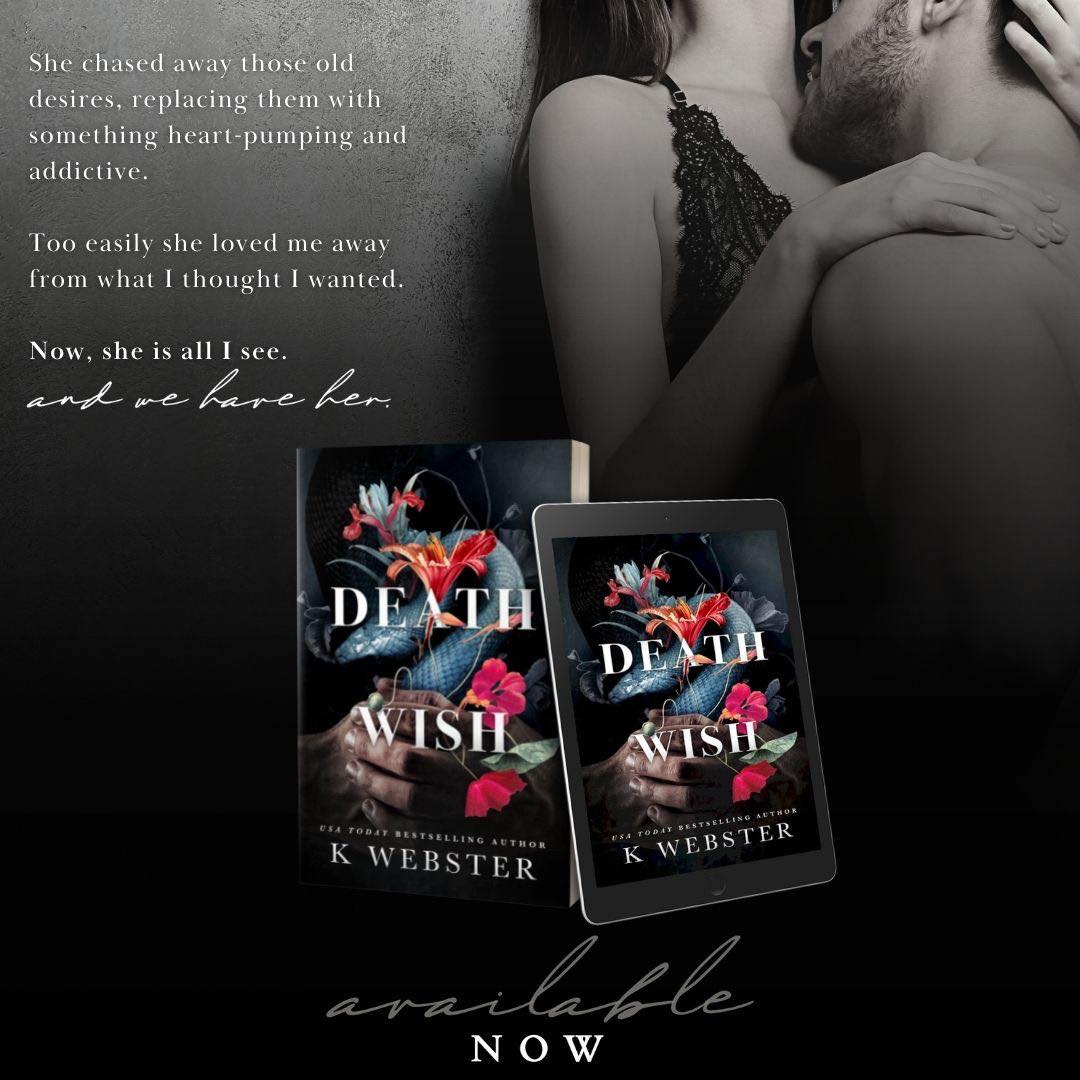 About K. Webster:
K Webster is a USA Today Bestselling author. Her titles have claimed many bestseller tags in numerous categories, are translated in multiple languages, and have been adapted into audiobooks. She lives in "Tornado Alley" with her husband, two children, and her baby dog named Blue. When she's not writing, she's reading, drinking copious amounts of coffee, and researching aliens.
Connect w/K. Webster:
Website: https://authorkwebster.com/
Facebook: https://www.facebook.com/authorkwebster
Twitter: http://www.twitter.com/KristiWebster
Instagram: https://www.instagram.com/authorkwebster
Goodreads: https://www.goodreads.com/author/show/7741564.K_Webster
Bookbub: https://www.bookbub.com/authors/k-webster
Amazon: https://www.amazon.com/K-Webster/e/B00JOJ86CW
Newsletter Signup: http://eepurl.com/bllgoP