My Review:
What happens when a Bratva Princess and an Italian Mafia King get drunk in Vegas . . . an unexpected marriage of course!
Michelle Heard takes readers on yet another sexy as can be adventure when Mariya Koslov and Luca Cotrini find themselves tied together for the next six months before they can even consider an annulment, thanks to their fathers.  But, perhaps there is more to this unexpected wedding than either could have imagined!
I adored this book!  Mariya and Luca are so perfectly matched.  Both have secret feelings for the other, yet pride refuses to let them show.  But, when a once in a lifetime chance happens, Luca cannot let it pass them by and the rest is history!
I love that Luca is a closet romantic!  Head of the Italian Mafia and the Priesthood, he is ready to take on anything, but Mariya is the one challenge he can't wait to take on head first.  And, Mariya . . . she is all bada$$ and definitely has her parents blood running through her veins! (Fans of Tears of Salvation will love this book so much).  I really adored that she had a vulnerable side as well and that Luca new exactly how to break through her walls and treat her like the queen she is!
This book was unexpected and I really enjoyed catching up with some of my favorite characters from The Saints Series as well.  Action packed,  sexy AF and filled with lovely unexpected and intimate moments as well.  5 stars!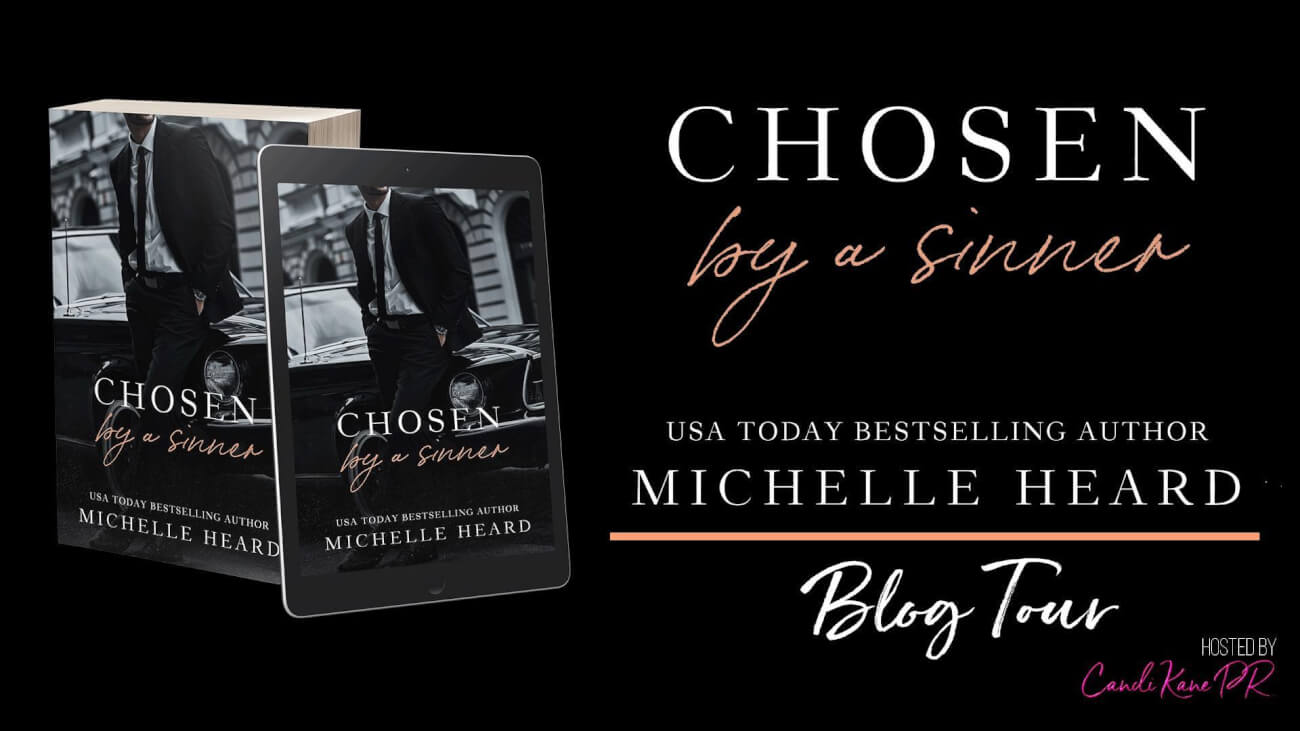 CHOSEN BY A SINNER by Michelle Heard
Release Date: August 8th
Genre/Tropes: Mafia Romance/Accidental Marriage/Enemies To Lovers/Feisty Heroine/OTT Jealous/Possessive Hero
Complete standalone in Sinners series
AVAILABLE NOW!!! FREE IN KU!!!
Amazon US: https://www.amazon.com/dp/B09Z31SYMD
Amazon UK: https://www.amazon.co.uk/dp/B09Z31SYMD
Amazon AU: https://www.amazon.com.au/dp/B09Z31SYMD
Amazon CA: https://www.amazon.ca/dp/B09Z31SYMD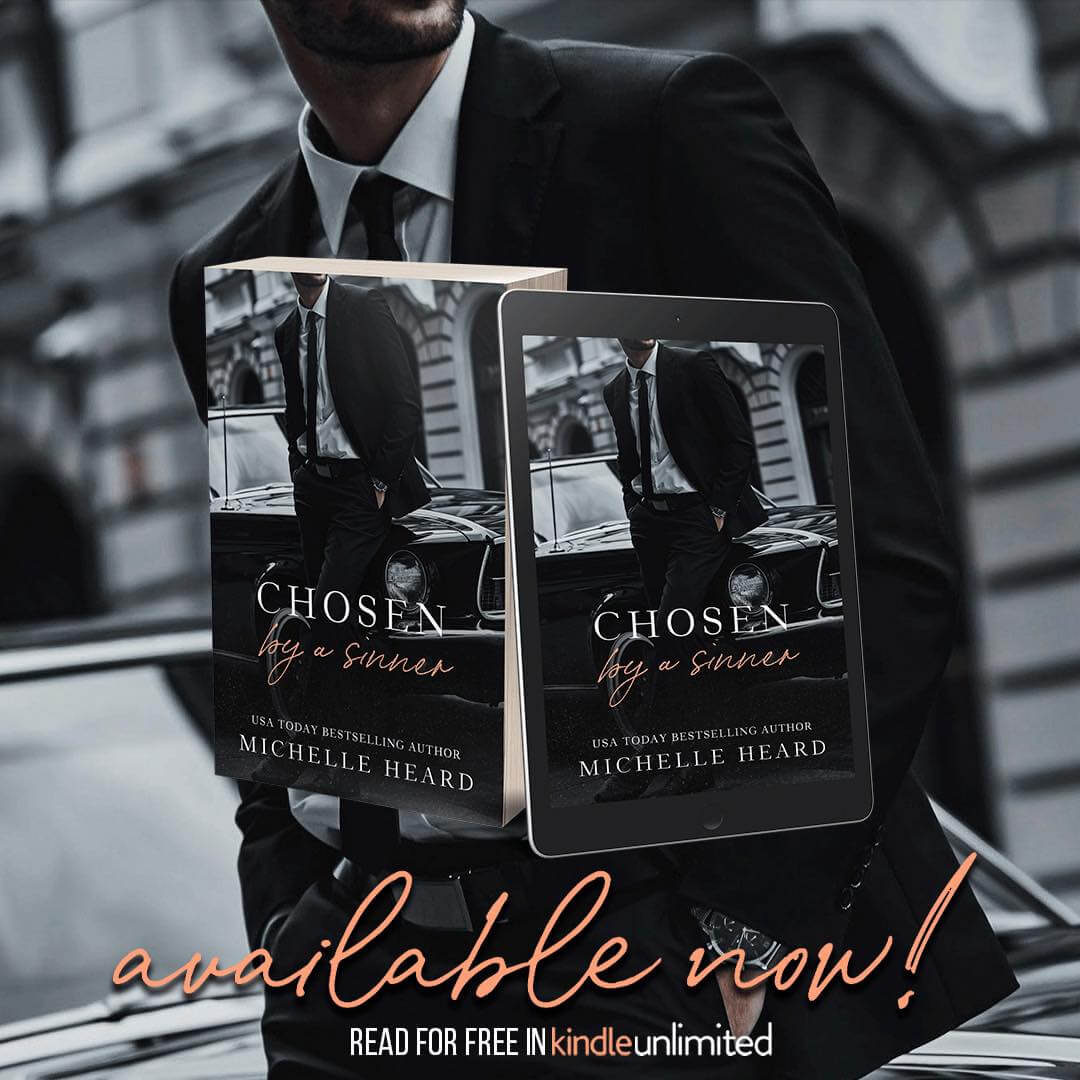 Add to Goodreads:
https://www.goodreads.com/book/show/59740334-chosen-by-a-sinner
Blurb:
Coming soon from USA Today & Wall Street Journal bestselling author Michelle Heard, a new standalone, full-length Italian Mafia Romance novel.
My family rules the world, and I always get everything my heart desires.
Well, almost everything.
Okay, so there's one thing I can't have.
Luca Cotroni.
Rude, arrogant, and demanding as hell, he's the man I lust after and despise more than anything.
After a wild birthday party where I clearly had too many drinks, I wake up next to Luca wearing his ring.
A wedding ring.
Who accidentally gets married to the head of the Italian mafia?
Me. A bratva princess.
Our fathers insist we remain married for six months before we're allowed to consider an annulment.
Six months.
I have to live with him. Sleep next to him. Be a wife to him.
It's fifty-fifty whether we'll kill each other or give in to the lust.
STANDALONE: An Italian Mafia Romance full-length novel.
WARNING: 18+ only. Please read responsibly. THIS NOVEL CONTAINS TRIGGERING CONTENT.
About the Author:
Michelle Heard is a Wall Street Journal, and USA Today Bestselling Author who loves creating stories her readers can get lost in. She resides in South Africa with her son where she's always planning her next book to write, and trip to take.
Connect w/Michelle:
Website: https://michelleheardauthor.wordpress.com
Facebook: https://www.facebook.com/MHeardAuthor
FB Readers Group: https://www.facebook.com/groups/118971435201074
Instagram: https://www.instagram.com/authormichelleheard
Twitter: https://twitter.com/MichelleAHorst
Amazon: https://amazon.com/author/michellehorst
Goodreads: https://www.goodreads.com/author/show/18108320.Michelle_Heard
BookBub: https://www.bookbub.com/authors/michelle-heard
TikTok: https://vm.tiktok.com/ZTd5K2HcN/
Newsletter Signup: https://preview.mailerlite.com/webforms/landing/p6m4o4